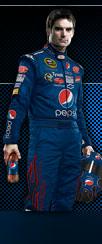 Paying The Price
March 30 - - Jeff Gordon seemed to be in position for a top-5 finish -- if not a victory -- at Martinsville Speedway, but a late-race speeding penalty on pit road sent him to the rear of the field. He came to pit road with the lead of the event with 30 laps to go, but was too fast entering his pit stall. Nevertheless, he rallied back in the closing stages to finish in 9th place. It was his 3rd consecutive top-10 finish, which moved him up to 16th in the NASCAR points standings. "I'm so disappointed in myself," Gordon said. "I knew I was pushing the limit. I didn't think I had done anything different than I had all day long when I was behind other guys. I'm very, very disappointed. I felt like we finally got the car in a position to win that race. It was a struggle. We were battling with tire wear and the car getting really loose. I thought Denny Hamlin had the best car, but I thought with our track position at the end we had a shot at it. I'm so disappointed, I don't even know what to say right now. But, of course, then the car is like the absolute best it's been all day when I drive up from the back."
---
Fight On Against Pediatric Cancer
In 2011, Jackson Panzarello forever altered the course of my life. Jackson's battle against cancer sparked my efforts to give more children a fighting chance against the disease. He passed away in 2012, but his legacy continues through the impact we've made for research and treatment. I have many teammates who open their hearts and wallets every time I have a pediatric cancer fundraising event. Whether you've donated $5, $500, or $5,000, your continued support means to the world to me. My fundraising efforts are directly tied to the power of teamwork. It is truly, as the inscription at Hendrick Motorsports reads, "the fuel that allows common people to produce uncommon results." Please consider a donation and join our team in the fight against pediatric cancer.

Pediatric cancer fundraising total: $103,395*

2015
Jeff Gordon Children's Foundation: $13,518

2014
Jeff Gordon Children's Foundation: $19,585
Kick It for Children's Cancer: $11,000
St. Baldrick's Foundation: $150
CureSearch: $46

2013
Jeff Gordon Children's Foundation: $20,300
Kick It for Children's Cancer: $5,140
St. Baldrick's Foundation: $159


2012
Jeff Gordon Children's Foundation: $12,681
Kick It for Children's Cancer: $12,608
CureSearch: $737

2011
Jeff Gordon Children's Foundation: $1,752
CureSearch: $5,719

*Since 2011
---
| | | |
| --- | --- | --- |
| Outreach/Awareness | | About Jackson |
| | | |
| --- | --- | --- |
| | | Going forward, the "breaking news" can be found on Facebook and Twitter. The Jeff Gordon Online website will focus on race reports and charity initiatives. |
Follow on Twitter!

Calendar
April 3
Good Friday
APril 5
Happy Easter
April 6
Easter Egg Roll - D.C.


| | |
| --- | --- |
| Starts | 6 |
| Poles | 2 |
| Wins | 0 |
| Top-5 | 0 |
| Top-10 | 3 |
| DNF's | 1 |
| | |
| --- | --- |
| Track | Finish |
| Atlanta | 41 |
| Las Vegas | 18 |
| Phoenix | 9 |
| Fontana | 10 |
| Martnsvlle | 9 |


1999- Jeff Gordon wins his 44th career race on a cold day in Georgia.

-March 14-