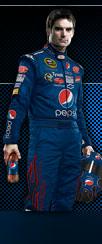 Closing The Daytona Chapter
July 6 - - Jeff Gordon finished 6th in his final race at the famed Daytona International Speedway, although the results were overshadowed by a massive crash on the final lap that saw Austin Dillon's car launched into the catchfence at the start/finish line. At the front of the field, Dale Earnhardt Jr scored the victory. Gordon came across the line in 6th after getting into a wreck as he crossed the line. "It's like a video game out there these days, except it's real life," Gordon said. "It's crazy. I love Daytona. This place has been amazing for me. I can't believe it's my final race here. But after going through that experience, I'm glad I just have one more restrictor plate race left."

Pic: 'Rainbow' Axalta Chevrolet (Bristol)

News: Phoenix International Raceway will change its name for a single day on November 15 to "Jeff Gordon Raceway" to honor the driver on his final start at the track. "It's an honor to have the track named after me, even if only for a day," said Gordon. "What a cool gesture by Bryan Sperber, his staff and ISC. I've had some great moments at Phoenix International Raceway, and this will just add to the many great memories I have of racing in Phoenix."
---
Fight On Against Pediatric Cancer
In 2011, Jackson Panzarello forever altered the course of my life. Jackson's battle against cancer sparked my efforts to give more children a fighting chance against the disease. He passed away in 2012, but his legacy continues through the impact we've made for research and treatment. I have many teammates who open their hearts and wallets every time I have a pediatric cancer fundraising event. Whether you've donated $5, $500, or $5,000, your continued support means to the world to me. My fundraising efforts are directly tied to the power of teamwork. It is truly, as the inscription at Hendrick Motorsports reads, "the fuel that allows common people to produce uncommon results." Please consider a donation and join our team in the fight against pediatric cancer.

Pediatric cancer fundraising total: $110,028

2015
Jeff Gordon Children's Foundation: $19,517
Kick It for Children's Cancer: $610
Ronan Thompson Foundation: $24

2014
Jeff Gordon Children's Foundation: $19,585
Kick It for Children's Cancer: $11,000
St. Baldrick's Foundation: $150
CureSearch: $46

2013
Jeff Gordon Children's Foundation: $20,300
Kick It for Children's Cancer: $5,140
St. Baldrick's Foundation: $159


2012
Jeff Gordon Children's Foundation: $12,681
Kick It for Children's Cancer: $12,608
CureSearch: $737

2011
Jeff Gordon Children's Foundation: $1,752
CureSearch: $5,719

*Since 2011
---
| | | |
| --- | --- | --- |
| Outreach/Awareness | | About Jackson |
| | | |
| --- | --- | --- |
| | | Going forward, the "breaking news" can be found on Facebook and Twitter. The Jeff Gordon Online website will focus on race reports and charity initiatives. |
Follow on Twitter!

Calendar
July 8
Testing at Kentucky
July 9
Jeff Gordon Day Parade (Pittsboro)
July 11
Kentucky


| | |
| --- | --- |
| Starts | 17 |
| Poles | 3 |
| Wins | 0 |
| Top-5 | 2 |
| Top-10 | 9 |
| DNF's | 1 |
| | |
| --- | --- |
| Track | Finish |
| Dover | 10 |
| Pocono | 14 |
| Michigan | 21 |
| Sonoma | 16 |
| Daytona | 6 |


1994- After a late 2-tire change, Jeff Gordon scores his 1st NASCAR Cup series win.

-May 29-