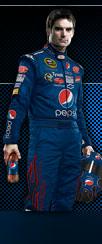 Post-Season Accolades
December 7 - - Jeff Gordon accepted honors for finishing 6th In the points standings during Friday's NASCAR Awards ceremony in Las Vegas. It is Gordon's best points finish since 2009. The night will honor Jimmie Johnson for his 6th Cup series championship. Following the awards, the NASCAR series heads east for a Monday test session at Charlotte Motor Speedway. Further tweaking of the Gen-6 car will be made in an effort to increase the amount of passing during races. The Christmas and New Year's break follows, with Daytona testing on tap for mid-January.
---
Fight On Against Pediatric Cancer
As you may know, I didn't start a website about Jeff Gordon with the intention of raising money to fight pediatric cancer. Two years ago, Jackson Panzarello forever altered the course of my life. Jackson's battle against cancer sparked my efforts to give more children a fighting chance against the disease. I have many teammates who open their hearts and wallets every time I have a pediatric cancer fundraising event. Whether you've donated $5, $500, or $5,000, your continued support means to the world to me. My fundraising efforts are directly tied to the power of teamwork. It is truly, as the inscription at Hendrick Motorsports reads, "the fuel that allows common people to produce uncommon results." Please consider a donation and join our team in the fight against pediatric cancer.

Oct 24-28: A long weekend in Southern California in honor of the inspiration who put me on this incredible path to make a difference in the fight against childhood cancer. It was humbling to read the piece on USC's website about my pediatric cancer fundraising efforts in honor of Jackson Panzarello to support The Jeff Gordon Children's Foundation, Kick-It, and CureSearch.
Read: "Fighting On for Jackson"

Homecoming Game: Trip to Charlotte on Sept 11 for a Kick It event with my amazing teammates in our mutual fight to end childhood cancer.
PIC: 'The Boys In The Band'

JGCF Annual Report - Honored to be featured in The Jeff Gordon Children's Foundation Annual Report (p.15 of PDF, p.27 of report)
---
Making A Difference
Pediatric cancer fundraising total: $58,873*
2013
Jeff Gordon Children's Foundation: $20,045
Kick It for Children's Cancer: $5,140
St. Baldrick's Foundation: $159
Marnie Jude Foundation: $32
2012
Jeff Gordon Children's Foundation: $12,681
Kick It for Children's Cancer: $12,608
CureSearch: $737
2011
Jeff Gordon Children's Foundation: $1,752
CureSearch: $5,719
*Since 2011
---
| | | |
| --- | --- | --- |
| Public Comments | | Newsworthy |
| | | |
| --- | --- | --- |
| | | Going forward, the "breaking news" can be found on Facebook and Twitter. The Jeff Gordon Online website will focus on race reports, feature columns, and charity initiatives. |
Follow on Twitter!

Calendar
December 9
Charlotte testing
December 21
Las Vegas Bowl
December 22
Fin


| | |
| --- | --- |
| Starts | 36 |
| Poles | 2 |
| Wins | 1 |
| Top-5 | 8 |
| Top-10 | 17 |
| DNF's | 5 |
| | |
| --- | --- |
| Track | Finish |
| Talladega | 14 |
| Martnsvlle | 1 |
| Texas | 38 |
| Phoenix | 14 |
| Homestead | 11 |


1990- Jeff Gordon makes his NASCAR debut in the Nationwide Series in the #67 Pontiac at Rockingham. He crashed early on lap 33.

-October 20-