---
Anita Silvestro
Columbia, South Carolina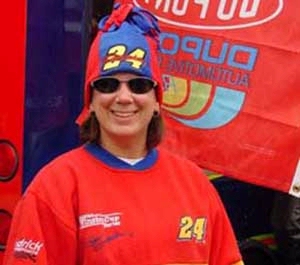 I first noticed Jeff Gordon in 1991 when he drove the #1 Carolina Ford and in 1992 when he drove the Baby Ruth Ford. At Atlanta in November 1992- his first race and the King's last race- was the day I became a diehard fan. I liked his driving style, his car, and would later grow to love the guy as a person. A diehard fan is one who goes through all the ups and downs... and I'm still here.
Are you a 'Diehard Fan' of Jeff Gordon?
Email your picture
Previous 'Diehard Fans'
Jeff Gordon Online
---
Copyright ©2000 Jeff Gordon Online.
All rights reserved.